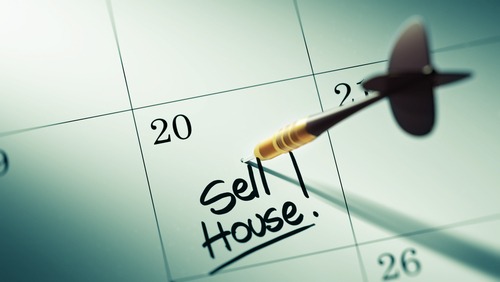 While it's not the be-all and end-all to a sale, choosing the right time to market your property can affect the selling process. The market does fluctuate throughout the year and this can help or hinder a potential move. 
To make the most of your experience, you should consider "when do I want to sell my house" and how this season will affect the local market. Read on to find out more about seasonal selling and how this affects the Plymouth market!
Why do seasons affect house sales?
Many don't realise how the time of year can affect sales, but it's important that you consider seasons when you want to move. Not all buyers and sellers will have the ability to choose a time of year to sell, but if possible you should.
Of course, there isn't one month that fits all when selling, as different properties will be in demand at different times of the year. From family homes to urban flats, each is marketed to a different audience who may want to move at different times of the year. For example, summer is an easier month to move in if you are a family as school is out. 
We've investigated the general trends season by season to help give some insight into property trends. If you want to find out more, contact us today online here to learn more!
Read on for a summary of the advantages and disadvantages of selling in each season!
Summer
Summer is a popular season to sell in, and some reasons may surprise you. Firstly, summer has better weather, allowing for more home viewings and better property marketing. It's also a time of year when people generally use up their holiday days so have more time to attend viewings too – however, this may also mean some buyers aren't focused on the market.
If buyers have children in school, they often tend to want to get them settled into a new home before school starts in the autumn. This sense of urgency pushes more family home sales in the summer months and helps larger families to avoid the stress of school time sales.
Buyers are also more likely to make more competitive offers and close faster during the warmer months. Selling your home in summer leaves you with more data and information from the spring months on how to price your home, too.
Autumn
If you sell in autumn, this can be advantageous to those who don't want extra competition from large family homes. Also, general trends show that home maintenance costs are lower, and you'll be able to fix up any issues without waiting for a booking. In the autumn you'll also have access to serious buyers that haven't purchased in the spring or summer, this group often tends to close faster before the holiday months. 
On the other hand, you sometimes find that buyers can become more demanding as there is less competition on the market. Landscaping and any outdoor home marketing can become harder as the season gets colder and wetter, too.
Winter
In general, winter is considered to be the toughest month to sell in. With colder weather and shorter days, many avoid this time of the year as the moving process seems more difficult. It's also close to the Christmas holidays, and many avoid significant changes during this time of the year.
It's not impossible to sell in winter though, and many do make sales. Some need to move for a new job and these often start in the new year. There's also lower competition for buyer attention at this time of the year, too.
Spring
Many regard spring as the best season to sell in, so if you want to make a sale based on positive trends, try this season. Some reasons for this include the fact the weather gets warmer and the days start getting longer. With the return of trees and flowers, this is promoting a more attractive garden space for most homes. 
If you sell in late spring, you can take advantage of families that want to move just as the school year ends. Buyers also view spring as the best season to move in, meaning more are likely to purchase at this time. Many use spring to beat the competition that comes in the summer months, too.
Spring also has some disadvantages, though, as competition can be fierce, and your property will need to be in perfect condition. Also, for those that have children, they may need to take them out of school to move.
What if I'm not ready to sell my house in my desired season?
While selling in a particular season may improve your chances of a quick sale, it's not the end of the world if you're not ready for spring or summer. It's more important to work on a timescale that suits your needs to make sure your home is prepared and marketed well. Making sure your home looks great will affect your sale much more than the season will!
Takeaway
Selling your house will always come down to supply vs. demand. This can never truly be predicted. However, if you want to use strategy and previous trends, selling your property at certain times of the year can help you sell quickly at a higher price.

Interested in selling your property in the Plymouth area? Contact us now for a free consultation: